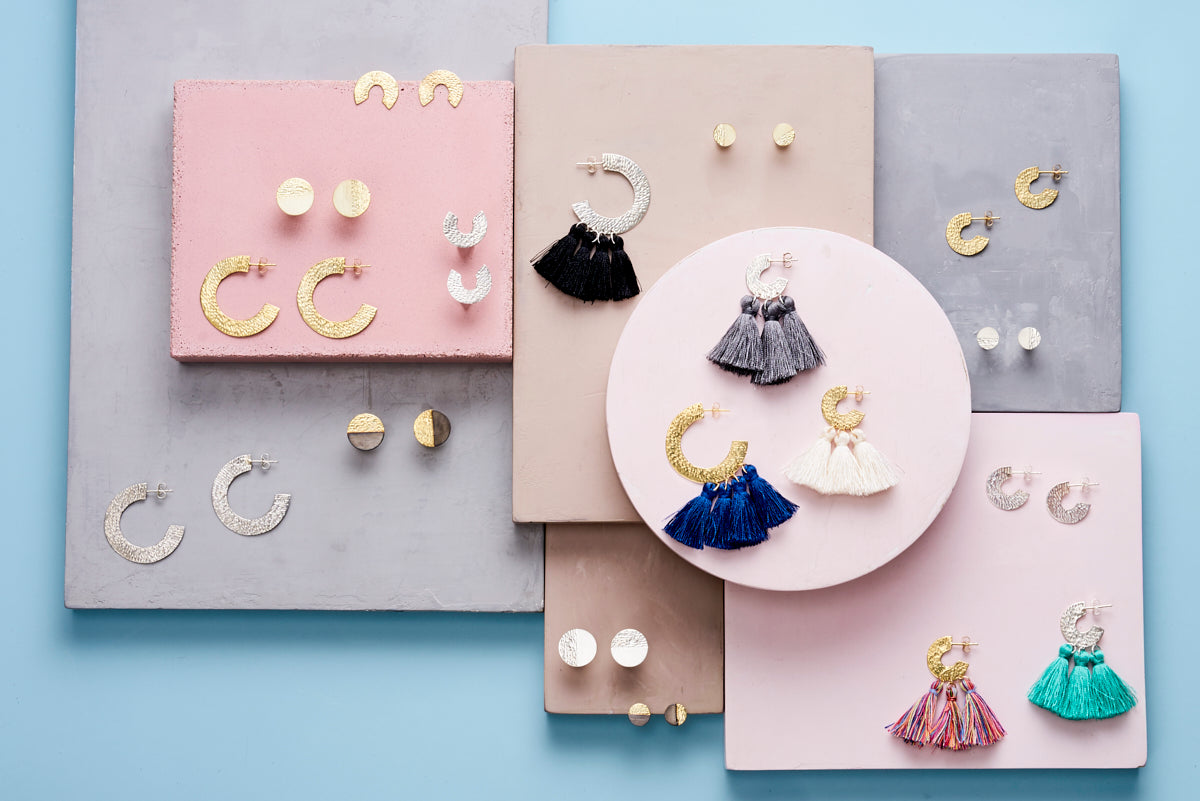 MOVEMENT BLOG: THE INSPIRATION  BEHIND MAKING THE MOVEMENT COLLECTION
Flaca Jewelry was founded on the premise that women should be able to self-purchase high quality fine jewelry without breaking the bank while also making a statement. The ethos behind every design Flaca makes and every color Flaca chooses comes from the desire to empower women towards financial independence without sacrificing quality.
Flaca's newest collection, Movement, is no different. As per Movement's predecessor, The Awaken Collection, designer Amy Shepsman was inspired by her travels within Thailand for her honeymoon. Movement continues to explore and expand upon the shapes seen in Awaken but with a slight twist: Instead of half moon shapes pointing inwards, the Movement Collection flips those curves around to form more of a horseshoe design, playing with negative and positive space. Angular shapes are found sitting next to or on top of round shapes, as is the case with our Riveted Sunrise Studs, yet the juxtaposition works beautifully.
The same marriage between sharp architectural lines and smooth undulating hammered textures can be seen throughout all the new pieces in Movement. Flaca's Large Horseshoe Hoop (seen left), for example, has hand-hammered texture on both the inside and outside sides of the hoop making it an interesting and sculptural piece from all 360 degrees. It's incredibly lightweight but looks more substantial and won't hurt your ears while turning heads.

"I am in love with a lot of the new products from Movement," says designer Amy Shepsman. "Stacking the Two-Textured Bangles, for example, is so easy. You add color, texture and even sound! My advice is to mix sterling with gold – everyone always feels like they shouldn't mix metals but I say do it. We're now offering these beautiful genuine precious and semi-precious stones wrapped in 18kt gold vermeil bezel wire and they're THE perfect way to add some brightness to your outfit. My favorites are chalcedony and labradorite but I'm also coveting the plain ones."
Shop our Movement Collection today and save 15% when you write a review on Facebook or post a photo of your purchase on Instagram. If you have any styling questions, reach out to us at info@flacajewelry.com and we'll be happy to find you the perfect accessory.